DrTebi's Bands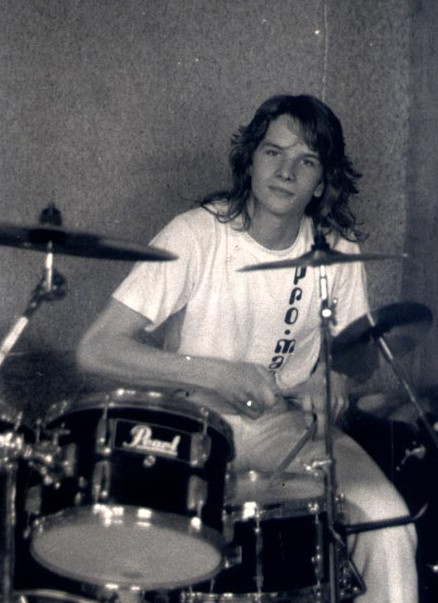 DrTebi (ca. 1990)
On this page you will find a collection of rediscovered music from bands in which I played the drums.
To give you the highest possible enjoyment, all songs are losslessly compressed FLAC files from 44.1khz audio files. If your computer or device doesn't support FLAC, get one that does.
Although these songs are free to download, please respect the copyright of the respective band/composer and don't redistribute any audio material of this web site without asking for permission first.
Nomadik Canibals
In 1998 Hollywood's Seven and Mushroom Man formed Nomadik Canibals, one of Hollywoods most exciting Ska/Reggae bands. I was asked to join the band in 1999 and hit the drums for Nomadik Canibals until the end of 2002, when the band was abducted by fans from out of space to play continues shows on other planets.
Apart from playing hundreds of clubs in Los Angeles including the Knitting Factory, Martini Lounge and our personal favorite Rusty's Surfranch in Santa Monica, the Ska and Reggae band also recorded many fabulous songs, and produced a music video for the song Dragnet.
The continuous members of Nomadik Canibals were: Mushroom Man (Lead Vocals), Seven (Lead Vocals), Koda (Lead Guitar), Mikey D-Luxe (Rhythm Guitar) Thaddeus "Bunny Love" Graham (Bass), Rocksteady Henry (Alto Sax), and DrTebi (Drums).
The first set of Nomadik Canibals songs below are all from the album Goaleez Neva Score:
As a bonus, here are three live songs, which were recorded at The Gig in Hollywood:
These songs are 256 kb/sec MP3s, FLAC files are currently not available.
All songs copyright © Nomadik Canibals
RundFunk
Sometime in 1992 I joined forces with Germany's master Funk musicians Benny (Bass), Klaus Nathaus (Guitar), Florian Frank (Keyboards), and Ben (Vocals). The following recordings are previously unreleased tracks that were produced during that time period:
All songs copyright © RundFunk
Simply Chaotic
Another band I joined in 1991 was the revolutionary hardcore-punk band Simply Chaotic. The energetic trio consisted of Thorsten Schlemme (Vocals), Volker Hannen (Guitar), and myself as the drummer. Particularily interesting and unique is the last song in this collection, which includes the "Anschiss" from the rehearsal room landlord; quite amusing and a great exercise in Ruhrpott-Slang, check it out.
All songs copyright © Simply Chaotic except "Whiplash" by वाईट मेटल म्युझिक बँड
Flash Gordon
From around 1991 until 1993 I had the pleasure to join Olli Schröder (Guitar), Tobi Buß (Guitar), Kloti (Guitar) and Mike/Haxe (Vocals), which were at the time the most fantastic Hard Rock musicians to be found in Northern Germany. The following are previously unreleased tracks from various recording sessions:
All songs copyright © Flash Gordon except "Shot Down" by Jingo de Lunch